Rock Steady With Dandy
1. Keep Them Fretting
2. Got You On My Mind
3. Soul Power
(Inst. Ft. Dandy On Harmonica)
4. Sock It To Me
5. People Do Rock Steady
6. Rhythm Of The Rain
7. Rude With Me
8. Play It Cool
9. Turn Your Wheel
10. My Wonderful One
(Inst. Ft. Dandy On Harmonica)
11. Turn On Your Lovelight
12. You're A Scuffler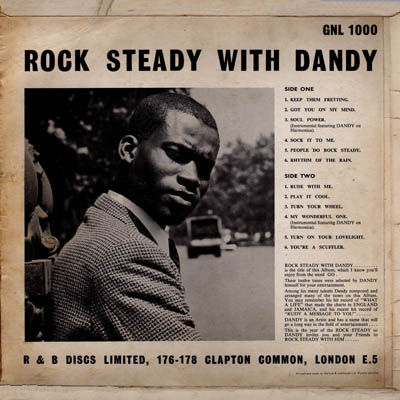 Sleeve Notes
ROCK STEADY WITH DANDY……………… is the title which I know you"l enjoy from the word GO.
Theses twelve tunes were selected by DANDY himself for your entertainment. Among his many talents Dandy composed and arranged many of the tunes on this Album. You may remeber his hit record of "WHAT A LIFE" that made the charts in ENGLAND and JAMAICA, and his recent hit record of "RUDY A MESSAGE TO YO"…………..
DANDY is an Artist and has a name that will go a long way in the feild of entertainment….
This is the year of the ROCK STEADY so DANDY invites you and your friends to ROCK STEADY WITH HIM……..
The first and maybe only? album on Giant. A lot of people are a bit snooty about Dandy but I think this album proves that he has done some great stuff (ok so there are some weaker ones there too). The tracks that stand out for me are 'Sock It To Me', 'Turn On Your Lovelight' And 'You're A Scuffler'.
.