A Tribute To Carole King's Tapestry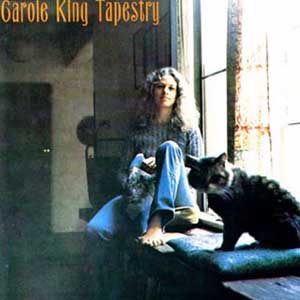 Carole King – It's Too Late

Audio clip: Adobe Flash Player (version 9 or above) is required to play this audio clip. Download the latest version here. You also need to have JavaScript enabled in your browser.

Marcia Griffiths – I's Too Late Baby

Audio clip: Adobe Flash Player (version 9 or above) is required to play this audio clip. Download the latest version here. You also need to have JavaScript enabled in your browser.

Carole King – Way Over Yonder

Audio clip: Adobe Flash Player (version 9 or above) is required to play this audio clip. Download the latest version here. You also need to have JavaScript enabled in your browser.

Judy Mowatt – Way Over Yonder

Audio clip: Adobe Flash Player (version 9 or above) is required to play this audio clip. Download the latest version here. You also need to have JavaScript enabled in your browser.

Carole King – You've Got A Friend

Audio clip: Adobe Flash Player (version 9 or above) is required to play this audio clip. Download the latest version here. You also need to have JavaScript enabled in your browser.

Irving & Cynthia Richards – You've Got A Friend

Audio clip: Adobe Flash Player (version 9 or above) is required to play this audio clip. Download the latest version here. You also need to have JavaScript enabled in your browser.

Carole King – Will You Love Me Tomorrow

Audio clip: Adobe Flash Player (version 9 or above) is required to play this audio clip. Download the latest version here. You also need to have JavaScript enabled in your browser.

Enos & Sheila – Tonight You Are Mine

Audio clip: Adobe Flash Player (version 9 or above) is required to play this audio clip. Download the latest version here. You also need to have JavaScript enabled in your browser.
Thanks to Joe Lawrance aka Zapatoo the Tiger and Paul Landers for label scans.
This year is the 40th anniversary of the release of Carole King's Tapestry and I've noticed that quite a few of the tracks have been covered by Jamaican artists. Ok so 'You've Got A Friend' and 'Will You Love Me Tomorrow' weren't actually first recorded by Carole King (James Taylor and The Shirelles respectively) but I thought it was interesting enough to warrant a post. As well as the versions above both Dennis Brown and Noel 'Bunny' Brown have covered 'It's Too Late' and Susan Cadogan covered 'Will You Love Me Tomorrow' there are probably more covers out there I'm sure a Jamaican artist must have covered 'You Make Me Feel (Like A Natural Woman)' another track on the Tapestry album but I couldn't think of one.